Products for Good
In many parts of the developing world, people lack access to necessary, affordable and quality products that could improve their quality of life.
Millions of people live off the electric grid. This means they are forced to use polluting and expensive alternatives such as kerosene lamps that affect their respiratory and eye health. Millions more retrieve water from far-off wells or streams, where water-borne illnesses are a threat to their livelihood. Women in many developing countries spend hours over polluting open fires, cutting their productive hours in a day short.
Our Social Enterprises help individuals and communities gain access to affordable life-improving goods and services that save them time and money — making them and their loved ones healthier, more resilient and empowered to strengthen their lives and communities.
FINCA is creating a distribution channel to under and unserved markets that are neglected because they are difficult to reach (rural), uneconomical to serve (low-income) and expensive to serve (under-educated). We are working with local leaders and training local youth as community mobilizers to provide employment and help them recognize their potential as change agents. And we are enabling access to capital for low-income customers with affordable financing so that they can purchase life-enhancing products. We will also use data to develop credit profiles for customers that can contribute to greater financial inclusion.
Our products include:
Clean Energy-Related Products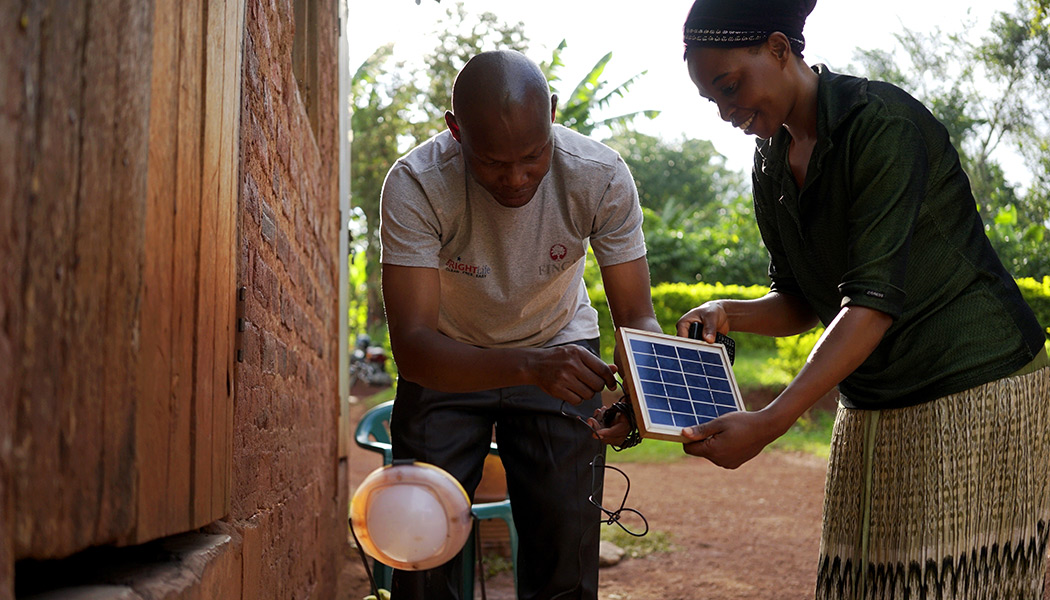 Solar Systems
A simple solar lamp helps clients extend business hours, gives light for children to study, and eliminates the daily cost of a hazardous kerosene lamp. We are exploring how to make solar systems available to individual families and small businesses, by partnering with solar companies. FINCA would help small enterprises to scale by providing financial solutions to end users or loans to the enterprises. See our BrightLife program »
Cookstoves
Millions of households across the world use harmful fuels to cook their meals. Cooking with solid fuels causes $123 billion per year worldwide in health and environmental damage. The efficient cookstoves BrightLife is providing reduce harmful emissions and cooks food much faster than an open fire.  With a clean cookstove at home, women can typically save more than 10 hours a week compared to using an open fire, while reducing fuel costs and deadly smoke inhalation.
Water and Sanitation Products
Water Purification Products
Many family members spend hours walking to far-away water sources, such as open wells and running rivers. However, this water can be contaminated with deadly diseases. Water purification products can significantly reduce the incidence of diarrheal disease in children, the top cause of infant mortality worldwide.
We are in the beginning stages of identifying product needs, which will vary from community to community and country to country.